Part of what makes hockey such an incredible game is the sheer unpredictability of the sport. There are all these numbers and statistics and calculations which are meant to help us make sense of what's happening on the ice but there's no way to predict that one slap shot, that one pass, that one save. All outsiders can hope to do is take this jumble of numbers we have and act like we can anticipate what's going to happen next without lacing up our skates.
With that being said, today I wanted to take a quick look at two extremes of a popular and fairly simple statistic. Shooting percentage (simply goals divided by shots on goal) as a value is as straightforward as they come, but can be an immediate predictor of future success. In the NHL today the league average shooting percentage for forwards settles around 11 percent. Of course, this isn't necessarily predictive of shooting percentage for every player. Just because a player had a higher or lower shooting percentage doesn't imply they'll settle back to the mean. Naturally, some guys are just better at lighting the lamp, so it's more important to use that 11 percent as a guideline and compare yearly shooting percentages against individual career averages. In this piece, we'll cover the top three and bottom three 5v5 shooting percentage forwards (with at least 20 5v5 goals) from 2015-16 and discuss their place in the 2016 fantasy landscape.
Top 3
Jaromir Jagr, FLA (19.80%)
Jaromir Jagr is a true ageless wonder. At the age of 43 last season he led a division-winning Panthers squad in scoring (27 goals, 66 points). He also posted the highest even strength shooting percentage since 2011-12 (Jiri Hudler excuse me?). Moreover, this even strength shooting percentage was almost double his average since 2007 (The tracking of even strength shooting percentage began in 2007.). So what does this mean for 2016? Well, 43+1 is 44 and that's not ideal but it's hard to argue with a guy who was an all star before I was born and is still chugging right along. While I think regression is coming on the goal-scoring front, he should still line right back up with an improving Huberdeau and Barkov on the first line. I wouldn't be surprised to see that goal number drop to 20 while the point total settles closer to that 60 mark this season, obviously still a very productive season.
Joe Pavelski, SJ (17.91%)
Does it worry me that my favorite player and the captain of my favorite team had the most efficient and potentially unrepeatable shooting season of his career? There's definitely some concern, but this is what makes me optimistic: Pavelski scored 52 goals between the regular season and playoffs, all of which I just sat here and watched (again). The results? 16ish deflections, 11 or 12 rebound goals and a lot of dependence on hand-eye coordination. This could be some homerism speaking but Pavelski may possess the best hand-eye in the game. To my last recollection, he still has hands, he still has eyes, and he doesn't depend on sniping and fancy dangles to score.  I think a 35-40 goal mark is expected and anything less would be a supreme disappointment.
Brock Nelson, NYI (15.67%)
I'm glad the third player wasn't an obvious name, because it provides an opportunity to play stud or dud with a potential rising star. These are the facts:
Brock Nelson has played three seasons in the NHL
Brock Nelson has increased his goal totals by six goals each season (14, 20, 26)
Brock Nelson increased his 5v5 shooting percentage by 7.67% from 2015 to 2016
Brock Nelson decreased his powerplay shooting percentage by 10.45% from 2015 to 2016
Brock is a fun name to say
Ding ding ding! Nothing adds up! In reality, this is what makes it so tough to judge players on sample sizes as small as this. It takes time to settle into a career trend, and this could be a combination of luck, occasionally playing on a line with John Tavares, and being a power forward in a sport where sometimes the puck bounces off your butt and goes in. Here's the issue: The Islanders have a fluid forward core and we could see Brock Nelson playing on the wing with Tavares one game and centering the third line the next. He should theoretically still hold the same powerplay role he did last season with Tavares which would be ideal, but until there's some clarity, a repeat isn't bankable.
Bottom 3
Vladimir Tarasenko, STL (10.53%)
There's a clear difference between the elite hockey players and elite talents, and it lies between the ears. Recency bias is a common flaw in the sports world, but the question still begs "What have you done for me lately?" We all know what happened in the Sharks-Blues playoff series. Tarasenko was invisible for 17 and a half periods, and that's not acceptable. I understand that the name of the game is to put the puck in the back of the net, but great players need to make their presence felt even when they hit a wall. This is controversial, but I don't think Tarasenko is a great player today because we saw how easily a team could eliminate him. As a player who doesn't offer much peripherally (hits, blocks, etc.) combined with a tendency to drift for long periods of time through a game, the red flags are waving and the production floor here is deceptively low and we could see a drop down to the 30-goal plateau (the horror).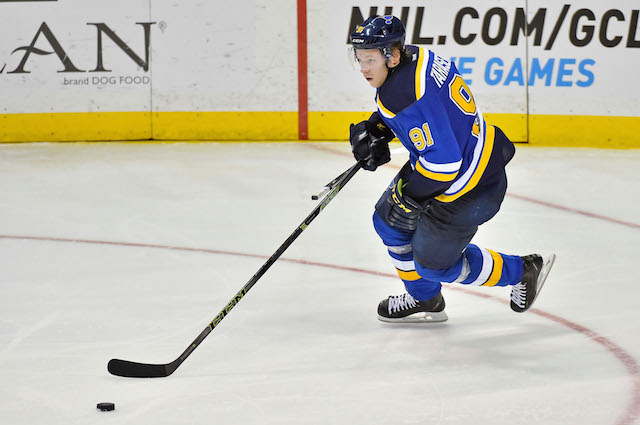 Alex Ovechkin, WSH (11.69%)
We're not going to waste anyone's time here. Ovie has won the Rocket Richard four years in a row and has led the league in shots on goal all but one year since he entered the league. Always a lower shooting percentage player at even strength who more than compensates on the man advantage. There's no reason to analyze the best goal scorer in the NHL so this will have to do.
James Neal, NSH (12.18%)
James Neal epitomizes boring consistency. His overall shooting numbers have stabilized around the 11 percent mark and he's settled into a top-line wing role on a powerhouse Nashville offense. One thing that does stand out is a very low 8.00% powerplay shooting percentage (bottom-10 in the NHL among forwards) well below a career mark. It doesn't necessarily mean much, but it's clear that Neal hasn't completely lost the 40 goal potential he displayed in Pittsburgh. The expectation should be at least 25, the hope should be 35. As a volume shooter with a physical edge, there's a lot to love here.
The countdown to the season continues, all aboard the hockey hype train!
All stats from Puckalytics and Hockey Reference.